5 reasons why you should open a branch in Poland
Advantages of setting up a company in Poland
There are no doubts that Poland is an attractive place for foreign entrepreneurs who want to run their businesses. As someone who worked on creating and scaling new branches of several companies (more info can be found in my portfolio), I have decided to share the most important reasons why starting a business in Poland is a good idea.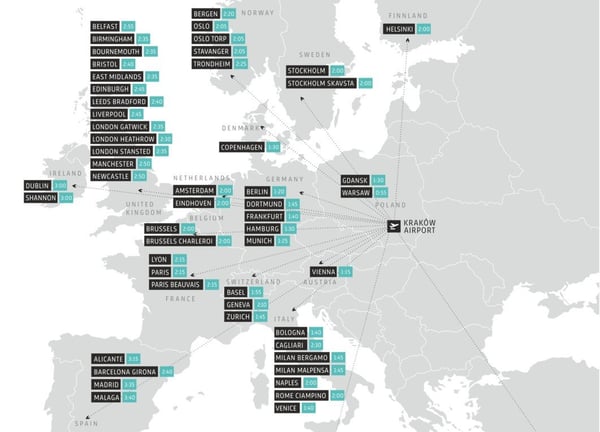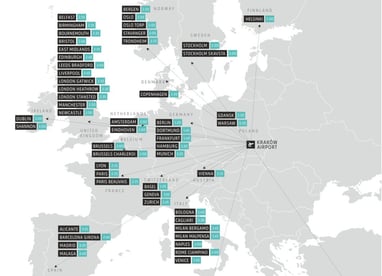 As you can see, it's not a problem to reach all major cities in Europe quickly, such as London (2:30 h), Berlin (1:20 h), Zurich (1:45 h), Paris (2:15 h), Amsterdam (2:00 h), Copenhagen (1:30 h), Stockholm (2:00 h), and many others. The flight options between Poland and other continents are also extensive. From Warsaw, we can fly directly to New York City (8 h flight), Chicago (10 h flight, with 39 flights per month), Los Angeles (12 h), Tokyo, Doha, Mumbai, and many other destinations.
The close proximity of the capital cities of Germany, Austria, or the Czech Republic, which can be easily accessed by motorway, is a valuable asset that not every country can boast of. Though numbers like 1247 km of motorways and 2,557 km of expressways may not sound impressive, in practice, it means that we can travel from Wrocław to Berlin in just 4 hours, free of charge. Kraków, our second largest city, is well connected to southern Europe, allowing easy access to Vienna, Prague, or Bratislava in around 5 hours by car. Main cities within Poland are also well connected, as I can confirm from my own experience. Thanks to the continuous modernization of roads and highways, travel times are getting faster and faster. Today, it takes about 6 hours by car to travel from the south of Poland (Krakow) to the sea (Gdańsk).
If we look for a more eco-friendly alternative to cars, we can choose the very affordable (compared to the rest of Europe) railway system in Poland. Traveling from Krakow to Gdańsk in just 5 hours? No problem. Fast communication today makes cooperation easier, regardless of where people live. I work and hire the best candidates for companies from opposite ends of the country, without any barriers. Remote work (with some visits to the office) is a standard in Poland today.
Warsaw flight destinations.
Cracow flight destinations.
Winter in Tatry, Kasprowy Wierch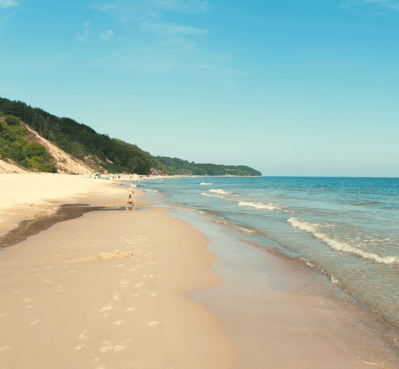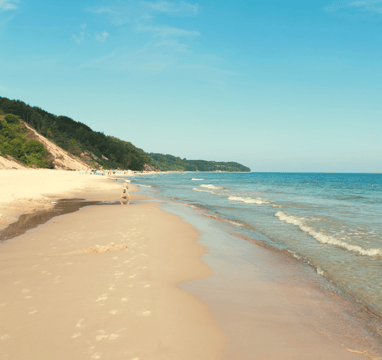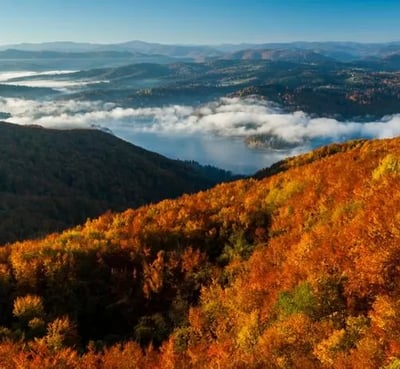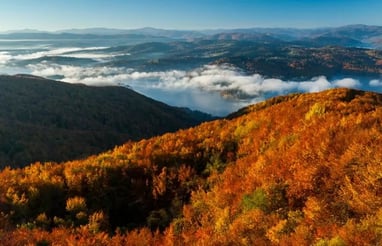 Time Zone
Besides location, I need to mention our time zone: Central European Time (CET). We are +6 hours ahead of New York (GMT-4) and +9 hours ahead of Los Angeles (GMT-7), which makes cooperation between Poles and US citizens comfortable. Regarding standard working hours, Poles usually work from 9 am to 5 pm. However, many Polish employees are open to adapting their schedules. Personally, I know many companies and IT teams working until 7 or 8 pm CEST (2 pm New York time). From the other side of the world, we are -3:30 hours to Mumbai (Maharashtra, India) and -7 hours to Tokyo (Japan).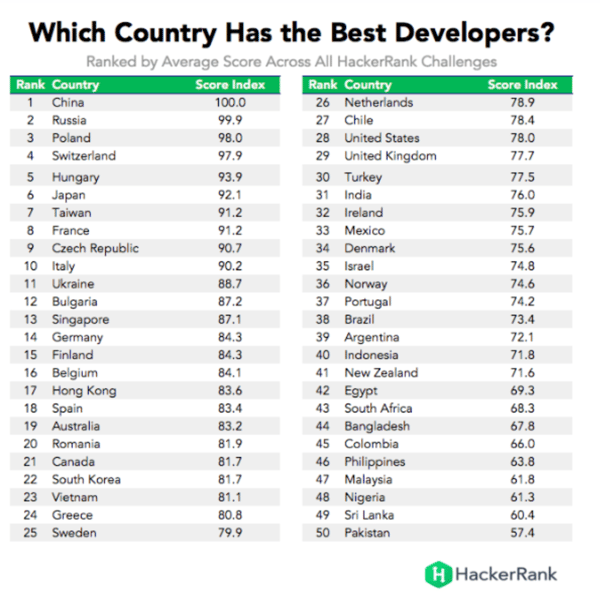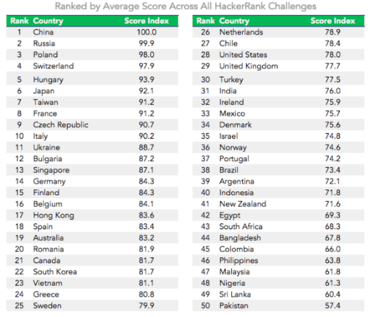 Economy/Costs
Poland is one of the most economically developed countries comparing to Eastern Europe, ninth economy in Europe. It offers a high level of salaries, low housing prices, low taxes compared to other EU countries and a lot of people are choosing Poland for permanent residence or as the first country to "move to Europe". 9% of corporate income tax is really attractive and almost all registration duties can be easily done online. However, the topic of economics and operating costs is so extensive that I would like to share next time on my blog.
People
Let's start with the most important factor - qualified and hard-working people. For years, Polish developers have consistently ranked high in global assessments, (for example in Hackerrank, see the graphic below), making Poland one of the leading countries in the world of coding. This is due in part to the fact that Polish schools teach coding at an early stage, resulting in students graduating with solid knowledge of C, C++, Python, Java, and JavaScript.
Cultural fit is always an important factor when teams work together towards a common goal. When working with Polish companies, you won't feel much of a difference in personal interactions, and you will have no problem aligning standard business practices. There is no significant difference between Polish people and citizens of Western countries. Poles are eager to integrate and establish relationships, so after negotiations or a business meeting, you can expect an invitation to go out for dinner, sightseeing, or simply a beer. Polish hospitality is known all over the world! My foreign friends who have moved to Poland have experienced less and less "culture shock" because most teams in Poland are multicultural. An "international working environment" is nothing out of the ordinary nowadays. Even when the company's positions are mostly occupied by Poles, it doesn't have an overwhelming influence on corporate culture because most organizations based in Poland work with clients, partners, or customers from abroad.
The work and management of Polish companies meet the best standards. These days, Agile is nothing new for software development, and finding a team without any working framework is rare. According to the HackerRank report, Polish programmers are considered "tough." In the category of "Which country never gives up," we took third place, just behind Hungary and Switzerland. This is an essential skill, especially in the IT industry. Patience and reliability help in solving problems and bugs in the code. In the long run, it also allows you to get through more difficult periods in the project and face all unwanted duties with enthusiasm, such as on-calls.
Communication is always essential when choosing workmates or business partners. The usual language barrier you might expect elsewhere is not an issue in Poland. Poles start learning English at the age of 6, and they are not afraid to use it. In the IT industry, specifically, it is essentially a requirement to have a certain level of English proficiency to be hired.
Localization
Poland is located in the very center of Europe, making it a gateway to both Western and Eastern markets. This is a strong argument for establishing a company here. The country's close proximity to major European capitals, its fourteen airports with great air connections, and its well-developed and affordable railway system make Poland one of the most connected and reachable countries in Europe. Polish airports provide an excellent base for trips to the largest business capitals in the world. See the map below for approximate flight times from Krakow and a map of connections for Warsaw. What's more, flight times from other Polish cities such as Gdansk, Wroclaw, and Katowice will be very similar to those presented below.
Executives have a significant impact on a company's culture. If a company operates in Poland but is managed by executives from another country, they are the ones who shape elements such as communication and relationships. The country of origin of a particular organization is also important. The working environment in a Polish branch of an international company from the US or Norway will be more open, flexible, and respectful of diversity, without the special national characteristics of a particular country. This is something that Poles appreciate. Many companies boast of a "Scandinavian work culture."
Weather
Last but not least: weather. Thanks to our location, we have a climate that offers the best of both worlds: snowy winters and hot summers. This makes both heat-lovers and cold-lovers satisfied. Moreover, the weather doesn't hinder traveling or doing business. The harshest winters are only found in the mountains.
Thanks for your attention and until next time!